Preliminary Interest Form for Business Showcase
*Please note that this form is not a commitment of participation. Share your feedback or express interest in participating in the 2022 Sequim Business Showcase.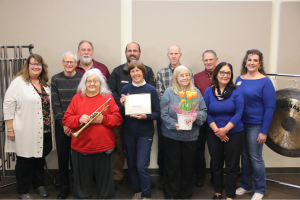 Sequim's "Shining Star" Business of the Month Award was founded in 2016 to recognize local businesses and organizations that go above and beyond, collaborate with other businesses and organizations, and represent the spirit of community in the Sequim-Dungeness Valley.
Recipients are selected as candidates by Chamber Staff, Volunteers & Ambassadors who recognize something special and out of the ordinary that a local business has done. Our Board of Directors then votes on who will receive the award each month, an article is written about the 'shining star' in our newsletter, and a certificate and celebration ensues.
This award is designed to shine a light on everything from a 'pay it forward' act of generosity, to a major philanthropic contribution. These businesses and organizations play a critical role in our economy and contribute immensely to the quality of life for all our citizens, and it is our tremendous honor to recognize this service.
Do you have a business or organization you would like to nominate? Contact Chamber Staff and we will happily include them in our nomination process!
Thank you for all you do in our community!
-Sequim-Dungeness Valley Chamber of Commerce Staff & Board of Directors
2022
January - United Way of Clallam County
February - Sequim Farmers & Artisans Market
March -
April - Sequim Irrigation Festival
May - Sequim City Band
June - Dungeness River Nature Center
2021
January -
February - Olympic Medical Center
March - Trinity Methodist Church
April - Rainshadow Cafe
May - Sequim Food Bank
June - Jamestown S'Klallam Tribe
July - Sequim School District
August - Sequim YMCA
September - Wilder Auto
October - Sunshine Rotary
November - WorkSource Clallam County
December - Peninsula Trails Coalition
2020
January - Alderwood Bistro
February -
March -
April -
May - Tedesco's Italian Fresh
June - Around Again
July - Sequim Health & Rehab
August - Peninsula Behavioral Health
September - Sequim Police Department
October - Black Ball M/V Coho Ferry
November - Wind Rose Cellars
December - Sofies Floral
2019
January - Park View Villas
February -
March - Quality Inn & Suites
April - Nash's Farm Store
May - Dungeness River Audubon Center
June - Dungeness Kids
July - Dungeness Valley Creamery
August - Olympic Game Farm
September - North Olympic Library System
October - Boys & Girls Club
November - First Federal
December - Oasis Bar & Grill
2018
January -
February - Home Instead
March - Air Flo Heating Inc.
April - Black Bear Diner
May - RE/MAX Prime
June - Sound Community Bank
July - The Cedars at Dungeness
August - Sequim Gazette
September - Windermere East & Sunland
October - Nourish
November - Clallam Transit
December - Sequim Farmers Market
2017
January - Emily Westcott
February - Castell Insurance
March - Purple Haze Lavender
April - Clear Water Bidets
May - Bills Plumbing
June - Dominoes
July - Fryer Insurance
August - Brokers Group Real Estate Professionals
September - Solar City Boutique
October -
November - Olympic Cellars Winery
December - Birds of a Feather
2016
June - Business of the Month Award Founded
July - We Do Fudge
August - Blue Mountain Animal Clinic
September - Pacific Office Equipment
October - Olympic View Inn
November - That Takes the Cake
December - Morning Star Balloon